uf, kok fino bi bilo živet v tej hiški 🙂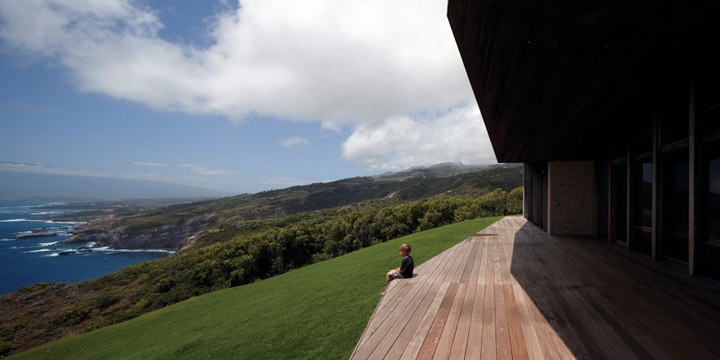 hudi so tile naši arhitekti! in še video http://vimeo.com/34884080
več "hišk" v pod eno streho, hiška z naj naj razgledom v naj naj okolici… in še po strehi lahko hodiš, če mogoče iz postelje ne vidiš valov. streha je dvakrat večja kot sama hiša (toliko kolikor je notranjih prostorov, je tudi zunanje..verandice), da sploh ni treba ventilatorjev in klime. Takšna je zato, ker so klimatske razmere tam tako "strašne", preveč sonca in močan veter. off shore. Revčki. 🙂
Windsurf sail designer Robert Stroj moves from Europe to Maui to lead the design research studio of Neil Pryde in Kahului, Maui. If Maui south coast is gentle and works for indulging all-inclusive holidays, its north coast is a rough surfer's paradise with strong winds and most important perfect waves.
It is in the middle of the ocean, far-off from almost everything. The home in such an environment becomes crucially important. Besides being just a home, this house works also as a social venue for the owners. The evening events are culinary blasts, where every guest realizes that cooking is not just necessity but more an obsession. Therefore the kitchen and the dining form the centre of the house – a fluid space between enclosed private volumes.
Perfect ocean view, beautiful cliffs, strong winds and unspoiled landscape. Is there any space for a house? It was a very unusual task for us European architects usually dealing with quite dense urban environment. It was hard to understand before its first visit, and easy to respond after some days spent there.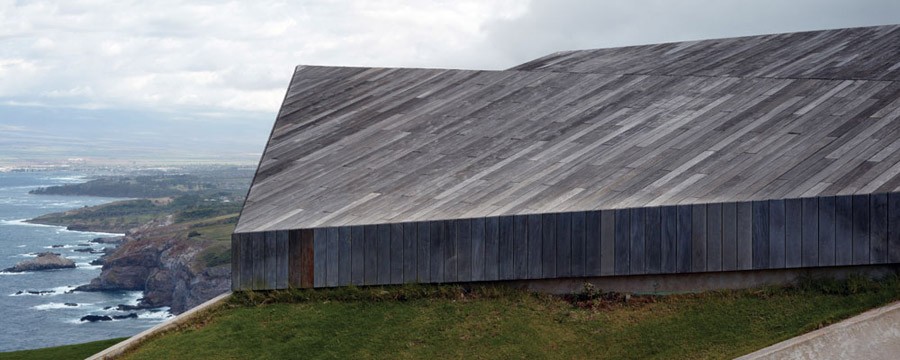 The concept defines several 'houses' under a common roof which also serves as a folded wooden deck and integrates the house with the landscape. Each separate 'house' is an U-shaped volume that works as a en-suite double room (bedroom plus bathroom) and opens up to the perfect ocean view.
The roof concept is strongly related to the rough climate with loads of sun and strong ocean winds. The area of the roof is twice the size of the house, so the size of the covered outdoor space equals the size of the indoor space. It needs no air-conditioning, since it is cross ventilated throughout. The folded roof is carefully attached to the walls of U-shaped volumes and defines specific spaces.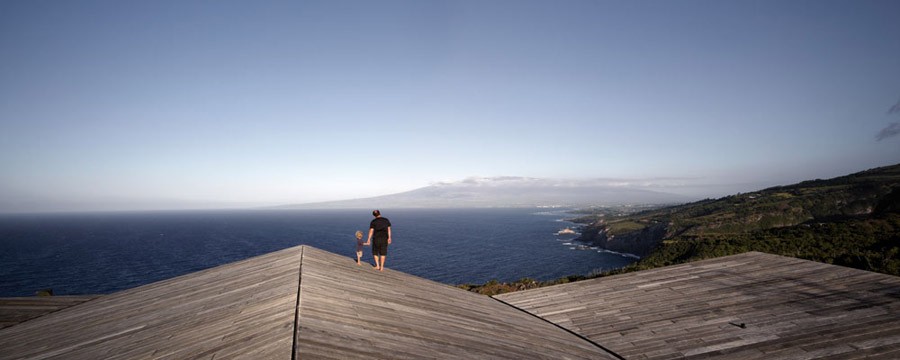 The local materials are used for the finishing of the house. The walls are rendered with the same plaster with beach sand indoor and outdoor and furthermore emphasize the smooth indoor-outdoor relationship. The same IPE wood is used for the floor plus terrace, ceiling and even the roof. On the other hand the house is for US standards atypically constructed out of concrete blocks, which just reflects the European origin of the owner.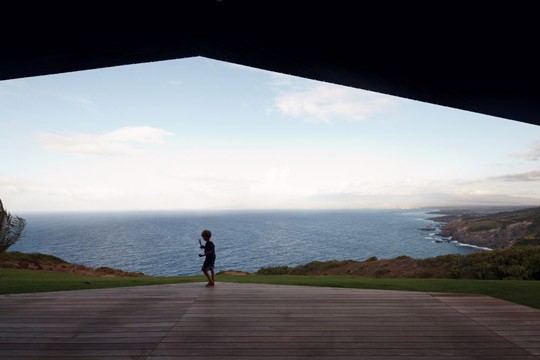 http://www.archdaily.com/210926/clifftop-house-in-maui-dekleva-gregoric-arhitekti/